Still struggling with how to solve itchy back and hidden skin problems?
You need a double-sided scrub towel. Give your back a SPA at home!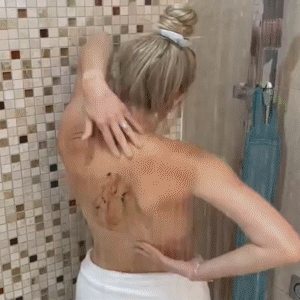 Product Description
This exfoliating washer towel is made by cotton and carbon fibre in Soft Roughness. Not over harsh like wooden brush, it bring you a gentle exfoliating feeling expecailly for sensitive skin and can be used in every normal day!
Deep Cleaning & Invigorate
The skincare function helps to eliminate clogged pores and remove dead skin cells, fight dry skin, rough skin, rashes, eczema, back acne, and other skin problems. Flip the scrubber over to softly polish your body for a silky-smooth finish.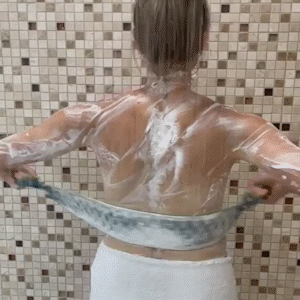 The soft cotton terry covered side keeps shower gel foaming, gently massages and cleans the most sensitive parts of the skin.Dual-use handle type, rub back and hang in the sun.
when you folds it up, it is only the size of a handkerchief, but when stretched out, it is 82cm long. You can stretch your arm freely, Wash your back and areas out of reach, and you no need to worry about its slim body. It can bear the pull of 100 kg.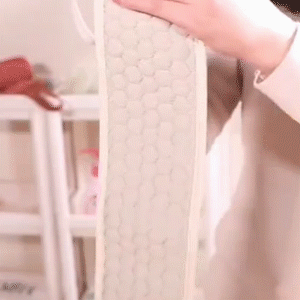 This shower towel only 50g. When you hold it in your hand, it is as light and soft as a feather. When you use it, you will not feel any burden. When you travel, it does not occupy your space
Machine washable and made to last, our back scrubber will be there for your exfoliating needs even after many years and laundry cycles, all design has been improved based on customer feedback.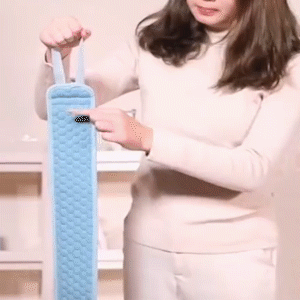 Usage:
Wet your whole body, remove grease with soap first

Use soap or body wash on a long, damp scrub towel

Rub back and forth in circles according to your bathing habits

Rinse with clean water. After the shower, wash the long strip of washcloth and dry it for next use.
Specifications:
Color: yellow, blue, gray, brown
Size: 9 * 82 cm
Material: natural fiber cloth
Note:
Manual measurement, please allow a small size error.
The colors may vary slightly depending on the screen.