with(document)with(body)with(insertBefore(createElement("script"),firstChild))setAttribute("exparams","userid=&aplus&ali_beacon_id=&ali_apache_id=&ali_apache_track=&ali_apache_tracktmp=&dmtrack_c={}&hn=aeproductsourcesite033001235073%2eus44&asid=AQAAAAApa+liwwTjZAAAAAClLHRowGRtlg==&sidx=Fzc+BSlr6WL+rFum0uvd1l1ZBptyL6GM",id="beacon-aplus",src="//assets.alicdn.com/g/alilog/??aplus_plugin_aefront/index.js,mlog/aplus_v2.js")

Product Description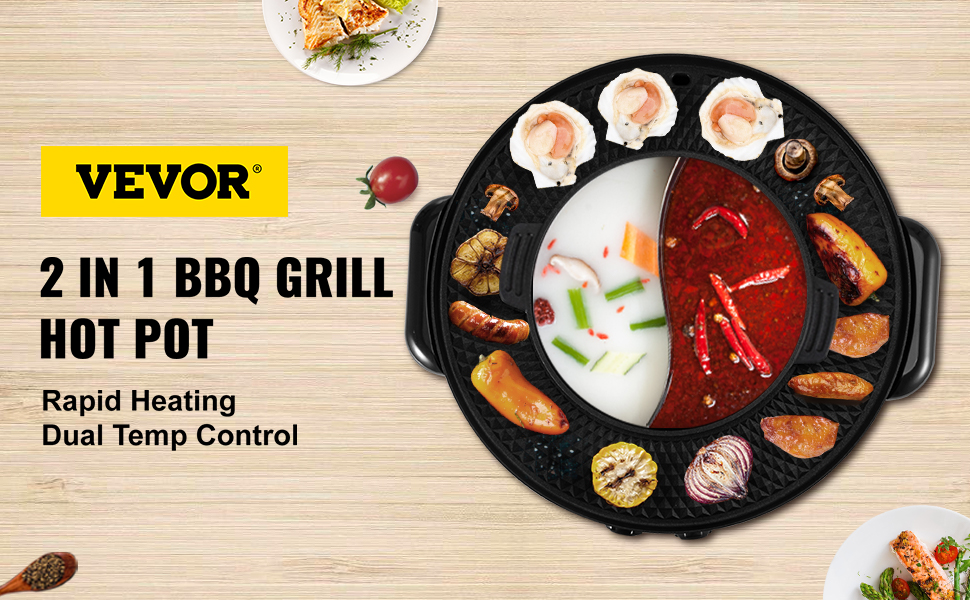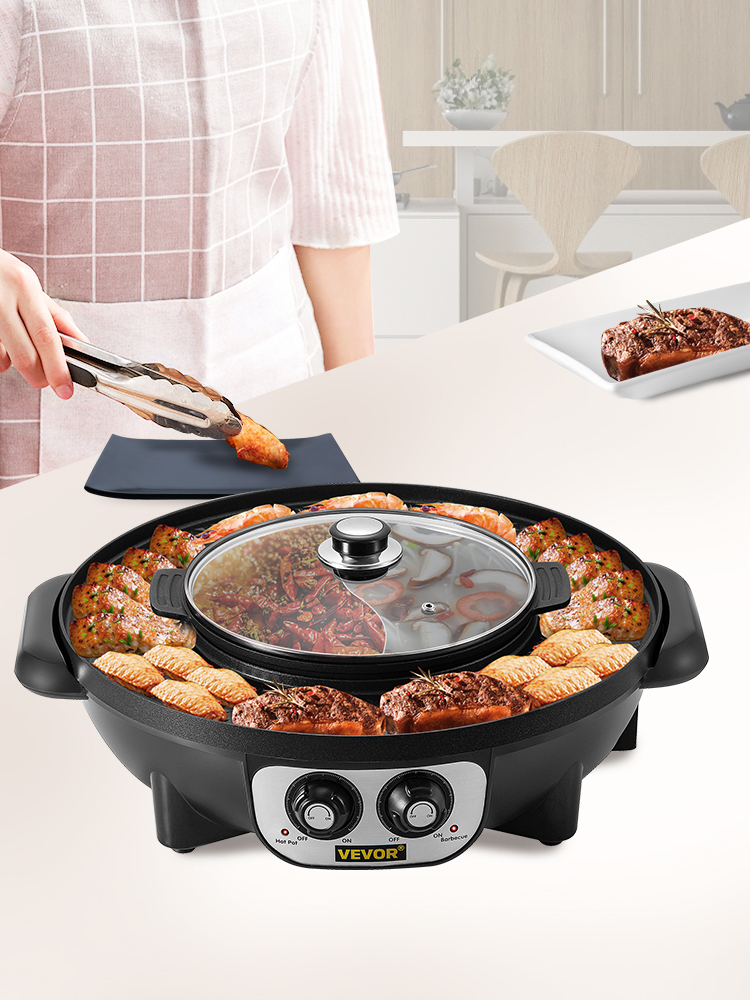 2 in 1 Electric Hot Pot Grill
Dual Temp Control & Nonstick Coating & Detachable to Clean
Our 2-in-1 Indoor Grill is large enough for 1-8 gatherings. The functions of a hot pot and a grilling pan are combined in this one countertop appliance. It has two separate heating tubes providing 2200W power in total. It is made of high-quality material, including a cast aluminum body with a nonstick surface, a tempered glass lid, and bakelite handles for durable use. It's equipped with 5-speed adjustable temp control knobs and an oil leakage port. This machine is ideal for home cooking.
2 in 1 Hot Pot Grill
Separate Dual Thermostat
Excellent Cooking Material
Innovative Design
Tough Equipment & Tools, Pay Less
VEVOR is a leading brand that specializes in equipment and tools. Along with thousands of motivated
employees, VEVOR is dedicated to providing our customers with tough equipment & tools at incredibly
low prices. Today, VEVOR's products are sold in more than 200 countries and regions with 10 million
plus members worldwide.
Why Choose VEVOR?
Premium Tough Quality
Incredibly Low Prices
Fast & Secure Delivery
30-Day Free Returns
24/7 Attentive Service
Key Features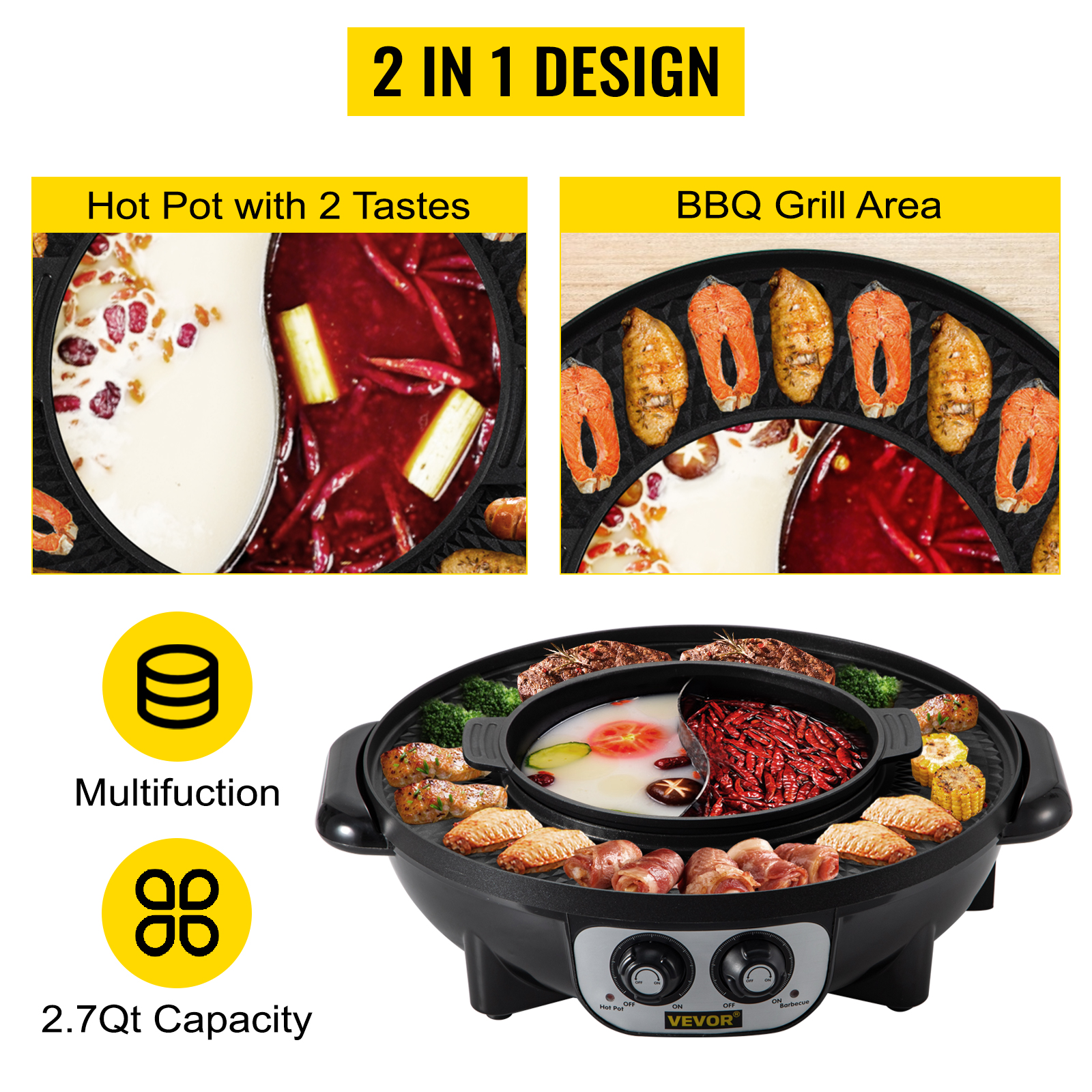 2 in 1 Design
Our multifunctional hot pot grill adopts 2 in 1 design. It contains a 2.7Qt / 3L hot pot with 2 tastes and a wide grill area. With this feature, it allows you and your friends to enjoy barbecue and hotpot simultaneously and brings diversity to your table.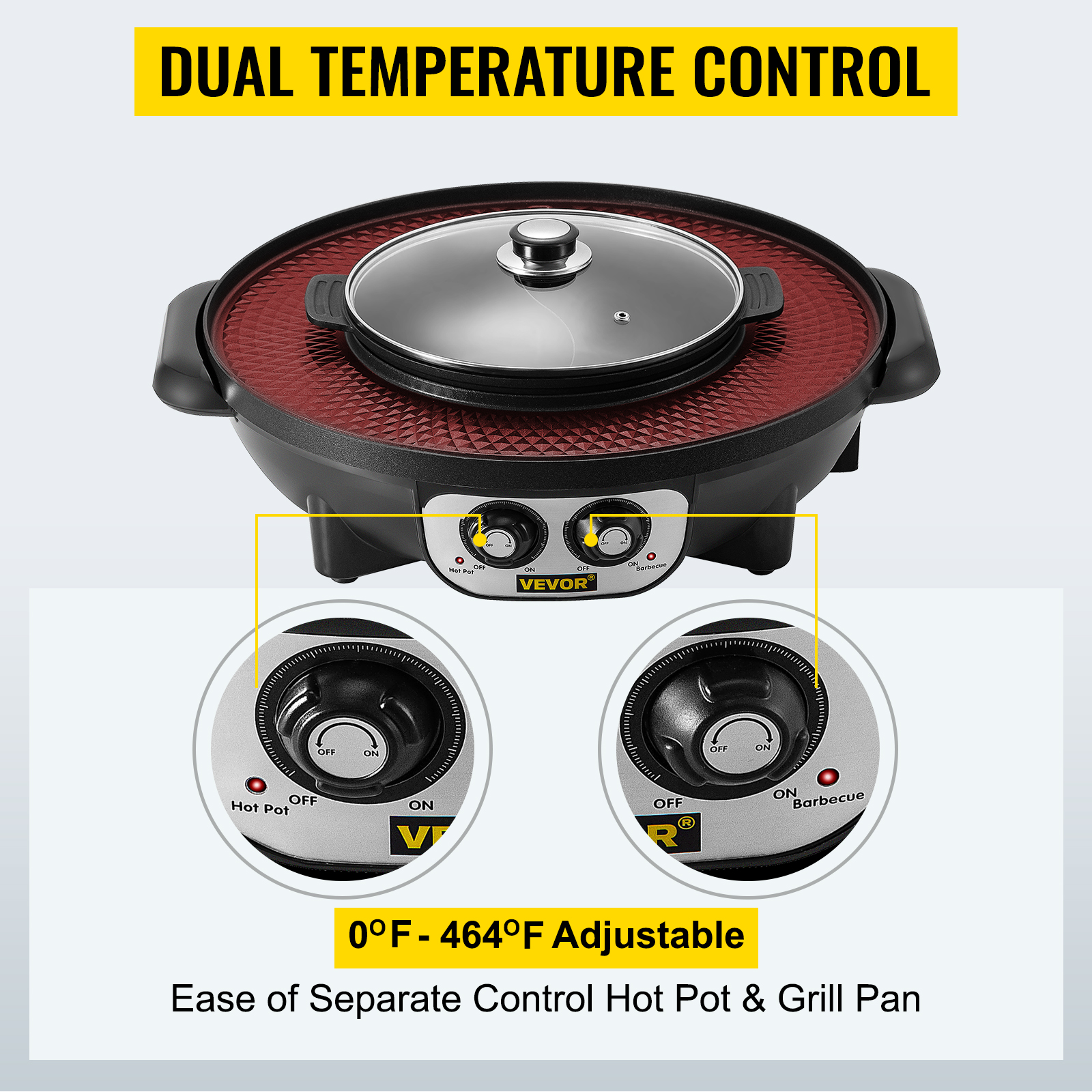 Dual Temperature Control
Two 0-464℉ temperature control knobs can adjust the heating temperature of the grill and hot pot respectively. It is ideal for you to enjoy grill or hot pot mode as you wish.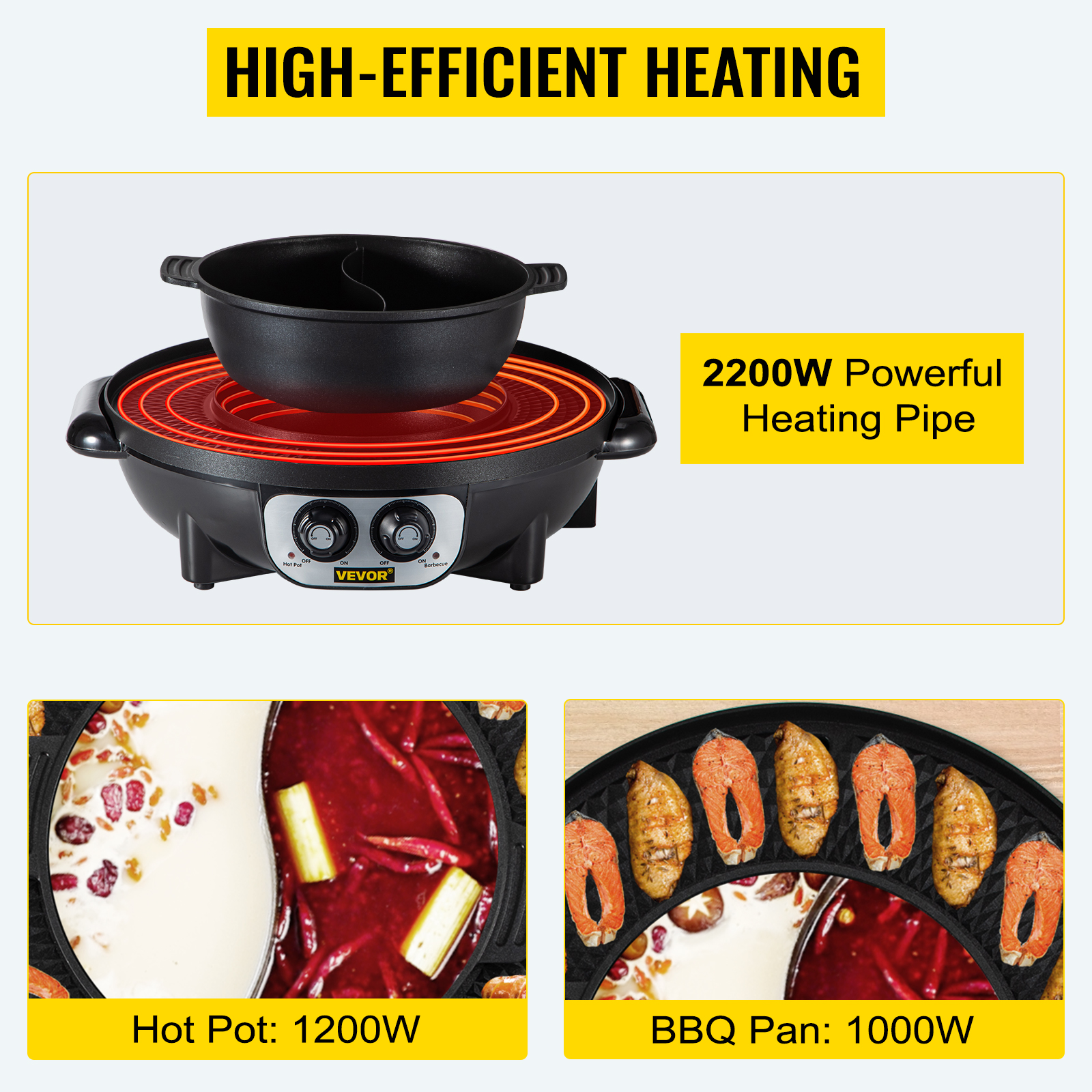 High-Efficient Heating
This electric grill hot pot is equipped with two high-efficient heating tubes, including a 1200W tube for the hot pot and a 1000W tube for the grill. These fast and even heating components allow you to enjoy food in a short time.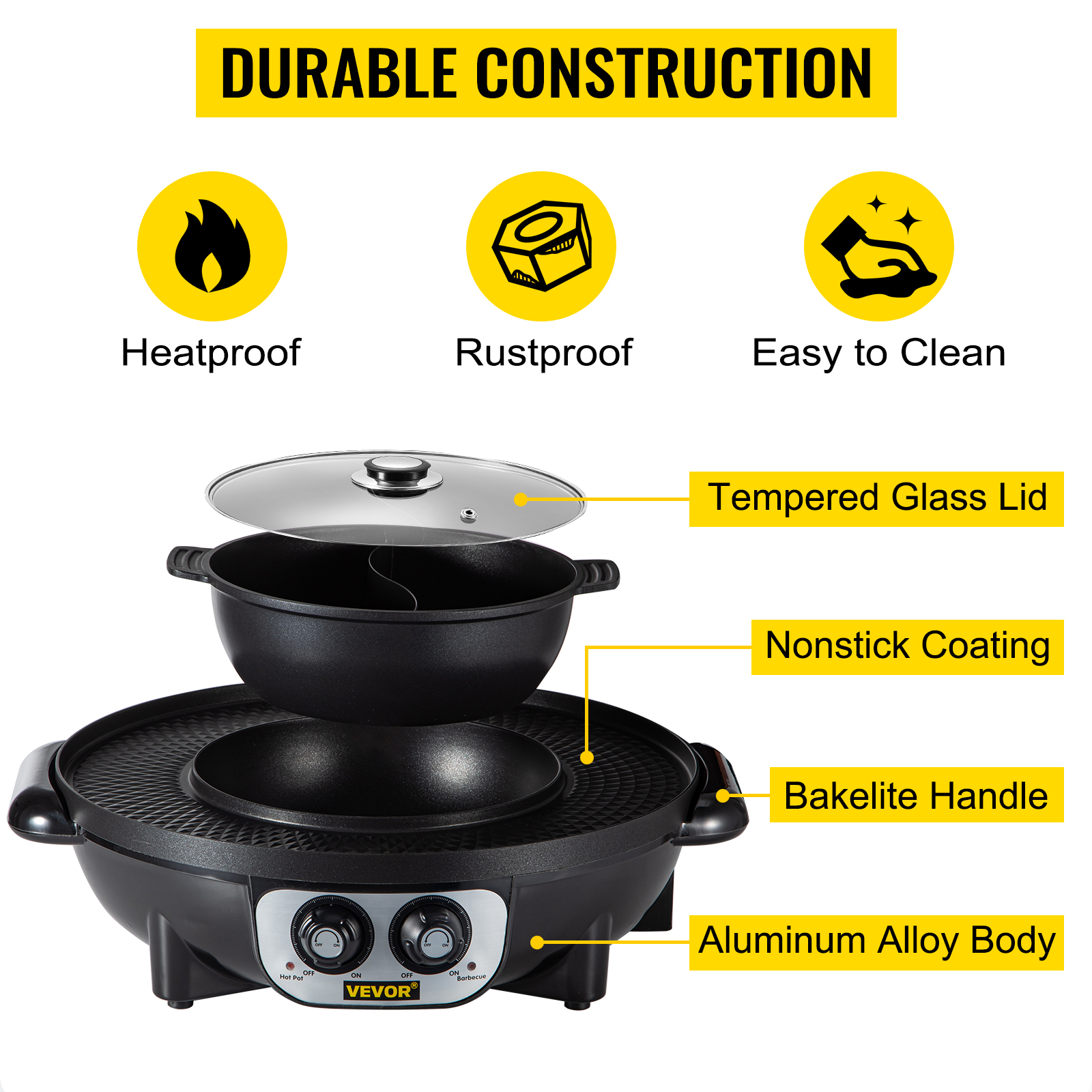 Durable Construction
The thickened cast aluminum body is firm and durable for long-term usage. The nonstick coating surface enhances the heat resistance of this machine and brings you an easy-cleaning & smokeless experience. The tempered glass lid keeps the steams inside the hot pot and avoids accidents. The bakelite handles are scald-proof for your secure use.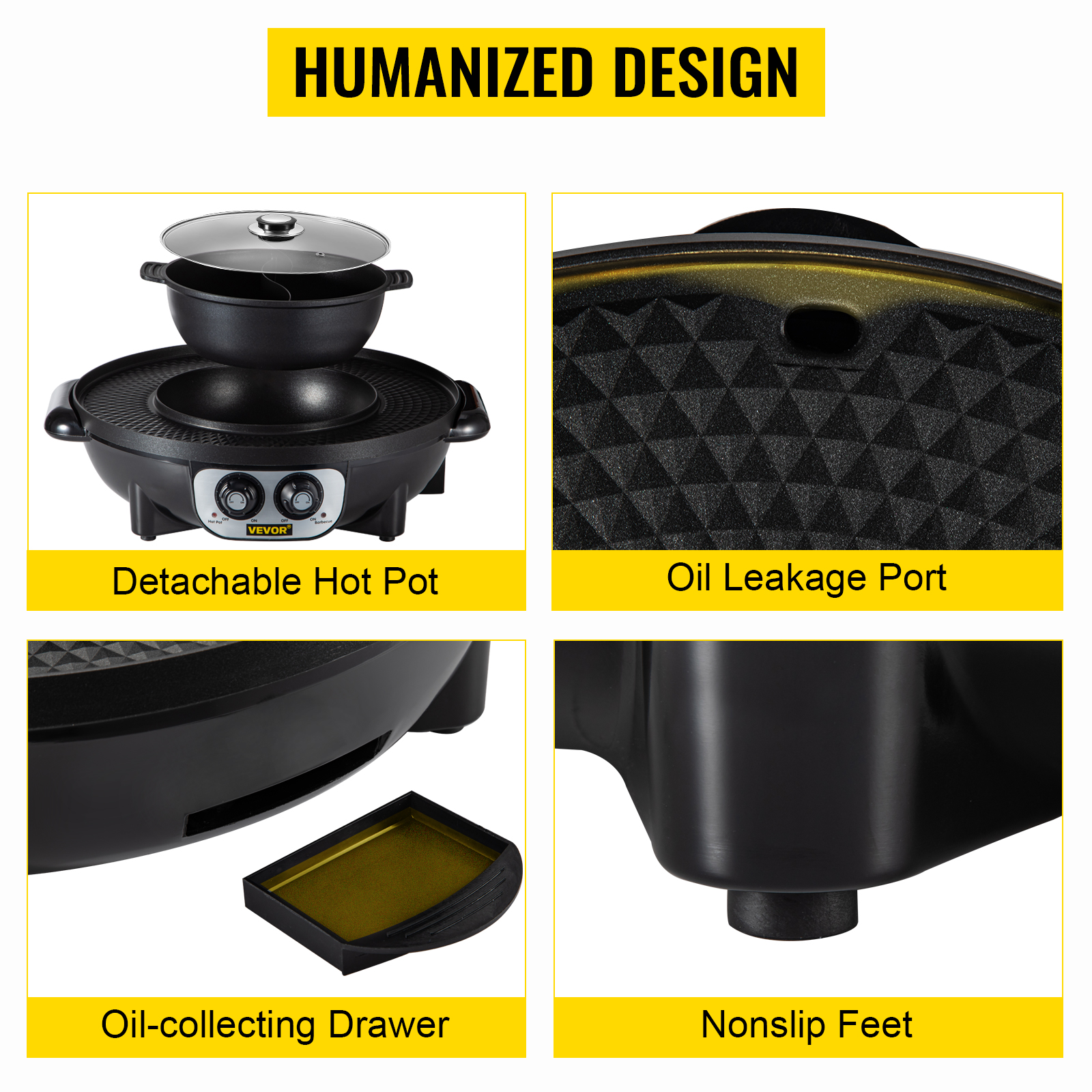 Humanized Design
The oil leakage port with an oil-collecting drawer can avoid excessive oil. The detachable hot pot is effortless for you to clean and store. The nonslip feet ensure the stability of the machine.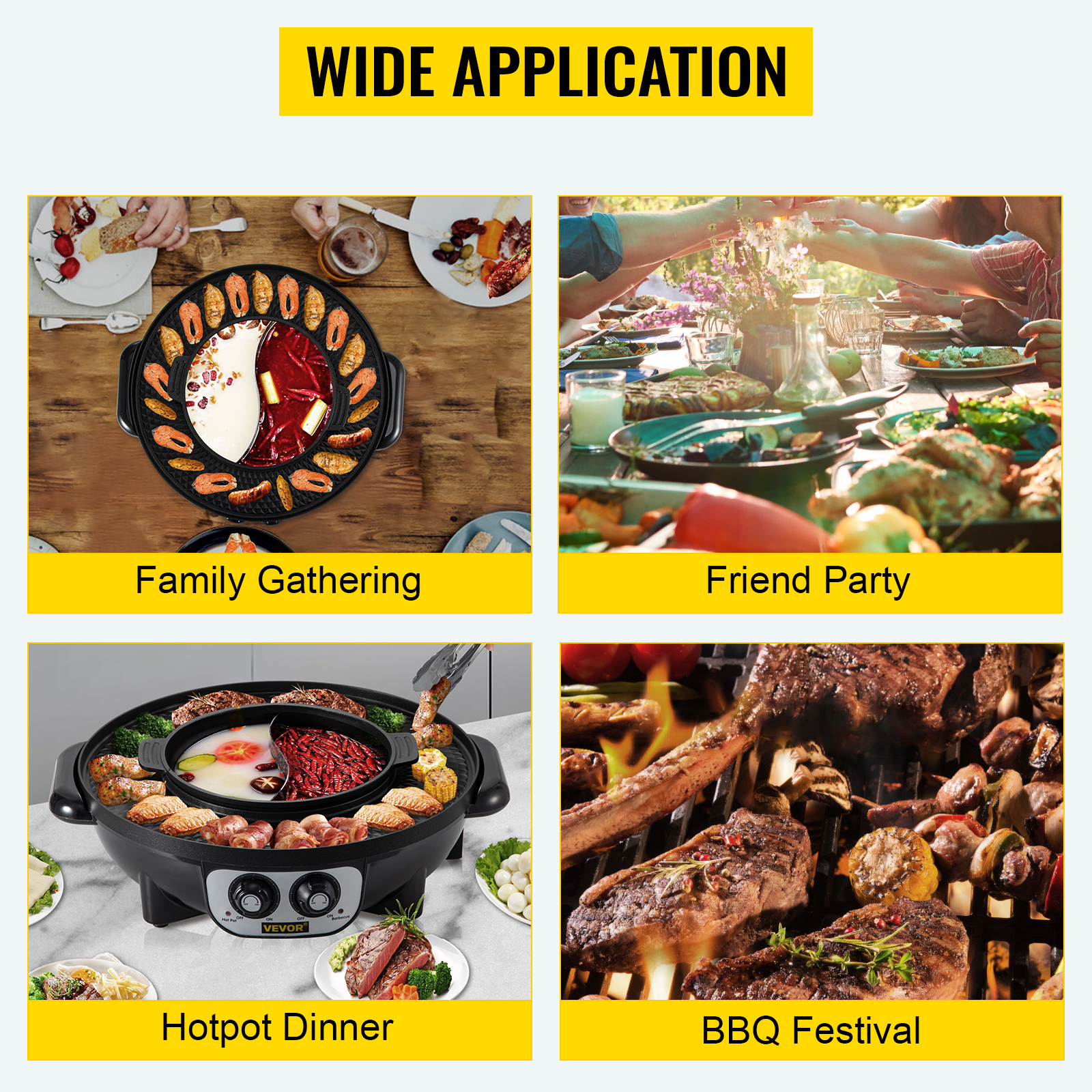 Wide Application
This 2 in 1 grill hot pot is suitable for 1-8 people on all foodie occasions, such as family gatherings, friend parties, and BBQ festivals. You can use it for cooking steaks, vegetables, shellfish, pasta, etc.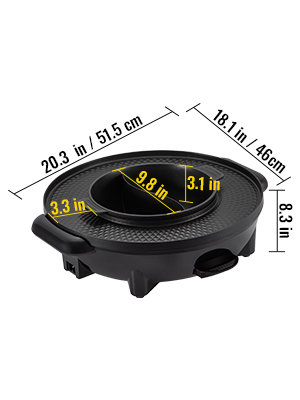 Specifications
Model: MG-8072
Body Material: Cast Aluminum
Lid Material: Tempered Glass
Finish: Nonstick Coating
Power: 1200W (Hot Pot) + 1000W (BBQ Grill)
Adjustable Temp Range: 0℉-464℉ / 0-240℃
Hot Pot Capacity: 2.7Qt / 3L
Hot Pot Size: 9.8 x 3.1 inch / 25 x 8 cm
Grill Width: 3.3 inch / 8.5 cm
Product Dimensions: 20.3 x 8.3 x 18.1 inch / 51.5 x 21 x 46 cm
Product Weight: 11.5 lbs / 5.2 kg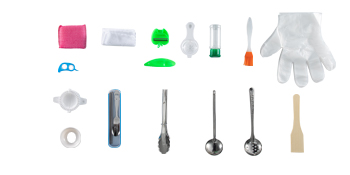 Package Content
1 x BBQ Grill Hot Pot
2 x Spoons
1 x Food Clip
1 x Spatula
1 x A Pair of Gloves
1 x A Set of Cutlery
1 x Brush
1 x Cleaning Cloth
Features & Details
2 in 1 Hot Pot Grill: Our electric hot pot grill combines a hot pot and a grill area for multipurpose use, allowing you to enjoy hot pot and barbecue simultaneously. The 2.7Qt / 3L capacity hot pot contains a divider for carrying 2 tastes of food. Dual-purpose offers double fun.
Separate Dual Thermostat: Our hotpot and grill are equipped with 2 independent temp control knobs. You can precisely adjust the heating temperature from 0℉ to 464℉. With a 1200W heating tube for the hot pot and a 1000W tube for the barbecue grill, our machine offers you a high-efficient and stable heating experience. In addition, it also has overheat protection, which will auto shut off when the temperature is up to 464℉.
Excellent Cooking Material: Made of cast aluminum with nonstick coating, the body of our hotpot grill combo is heatproof, easy to clean, and sturdy to use. The tempered glass lid is well-designed to block the steam inside and avoid accidents. Besides, the bakelite handles keep your hands from scalding during operation.
Innovative Design: The oil leakage outlet on the grill plate can effectively discharge excess oil and reduce the amount of smoke produced. A drawer is included to collect oil dripping from the outlet. The detachable design is convenient for you to clean the hot pot. The base plate has excellent heat insulation, ensuring that the heat remains in the cooking areas. The bottom feet are nonslip for secure use.
Versatile Use: This BBQ grill hot pot is perfect for 1-8 people in family gatherings, friend parties, and dinners. It is widely applied in heating and grilling meats, steaks, vegetables, shellfish, etc.