with(document)with(body)with(insertBefore(createElement("script"),firstChild))setAttribute("exparams","userid=&aplus&ali_beacon_id=&ali_apache_id=&ali_apache_track=&ali_apache_tracktmp=&dmtrack_c={}&hn=aeproductsourcesite033001235073%2eus44&asid=AQAAAAACtQ5jB/gjcwAAAABL4Ka7kR3ioQ==&sidx=Fzc+HgK1DmP+rFum0uvd1vjdKlNT5a4M",id="beacon-aplus",src="//assets.alicdn.com/g/alilog/??aplus_plugin_aefront/index.js,mlog/aplus_v2.js")

Product Description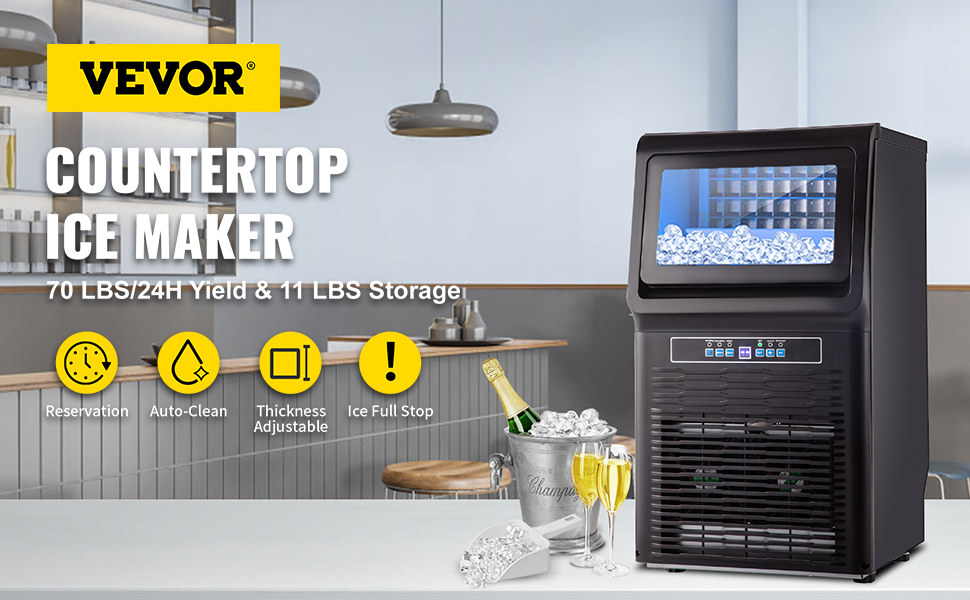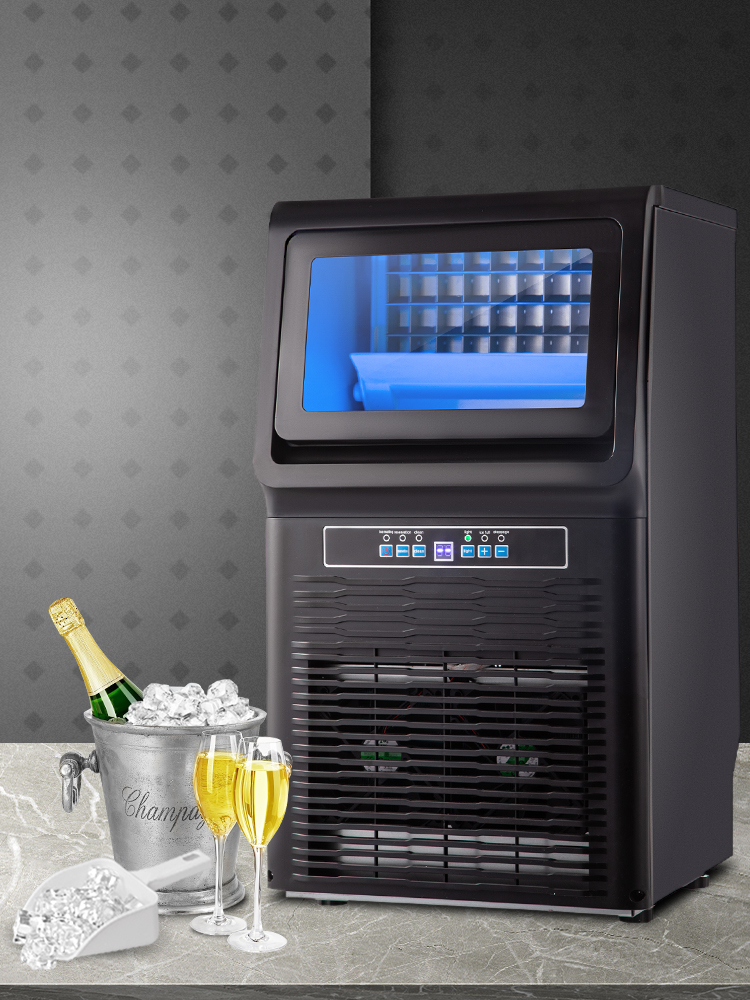 70 LBS Countertop Ice Maker
Made of heavy-duty ABS material with a thickened foam layer, our countertop ice maker is simple to clean and built to last. The 24-hour ice yield and storage capacity reaches up to 70 lbs (31.75 kg) and 11 lbs (5 kg) respectively, making this automatic ice machine perfect for your hospitality or food & beverage business. An additional water filter is available, enabling the ice maker to be connected to the tap water faucet directly, saving your time and effort.
Efficient Ice Making
Durable Material
Smart Panel Control
Easy to Connect & Use
Well-Designed Details
Tough Equipment & Tools, Pay Less
VEVOR is a leading brand that specializes in equipment and tools. Along with thousands of motivated
employees, VEVOR is dedicated to providing our customers with tough equipment & tools at incredibly
low prices. Today, VEVOR's products are sold in more than 200 countries and regions with 10 million
plus members worldwide.
Why Choose VEVOR?
Premium Tough Quality
Incredibly Low Prices
Fast & Secure Delivery
30-Day Free Returns
24/7 Attentive Service
Key Features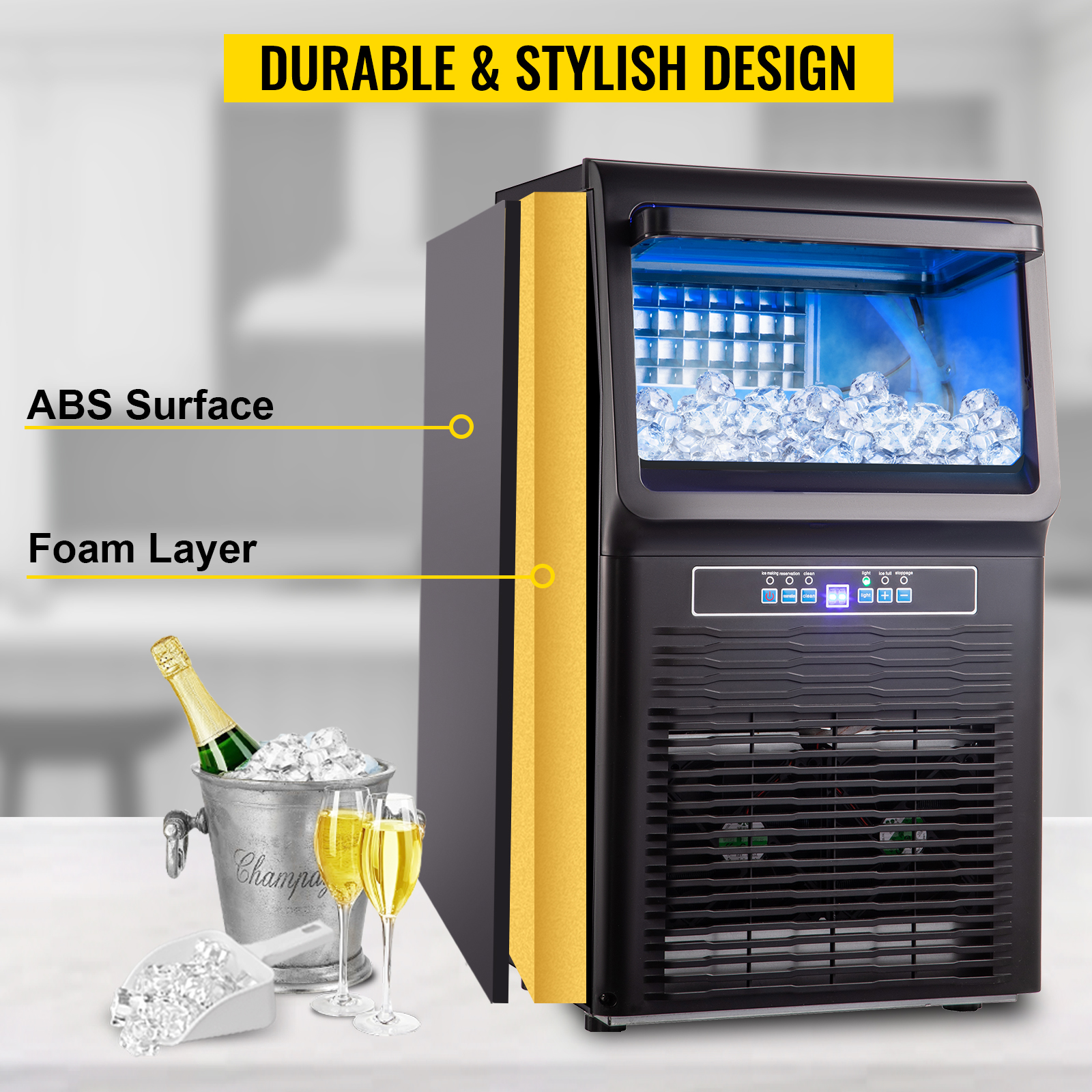 High Ice Yield & Storage
With the built-in ice tray of 36 PCs (4×9), this countertop ice maker can produce 70 lbs (31.75 kg) of ice cubes every 24 hours. The ice storage also reaches 11 lbs (5 kg). Fueled by the 350W compressor, each cycle of ice-making takes about 8-15 minutes.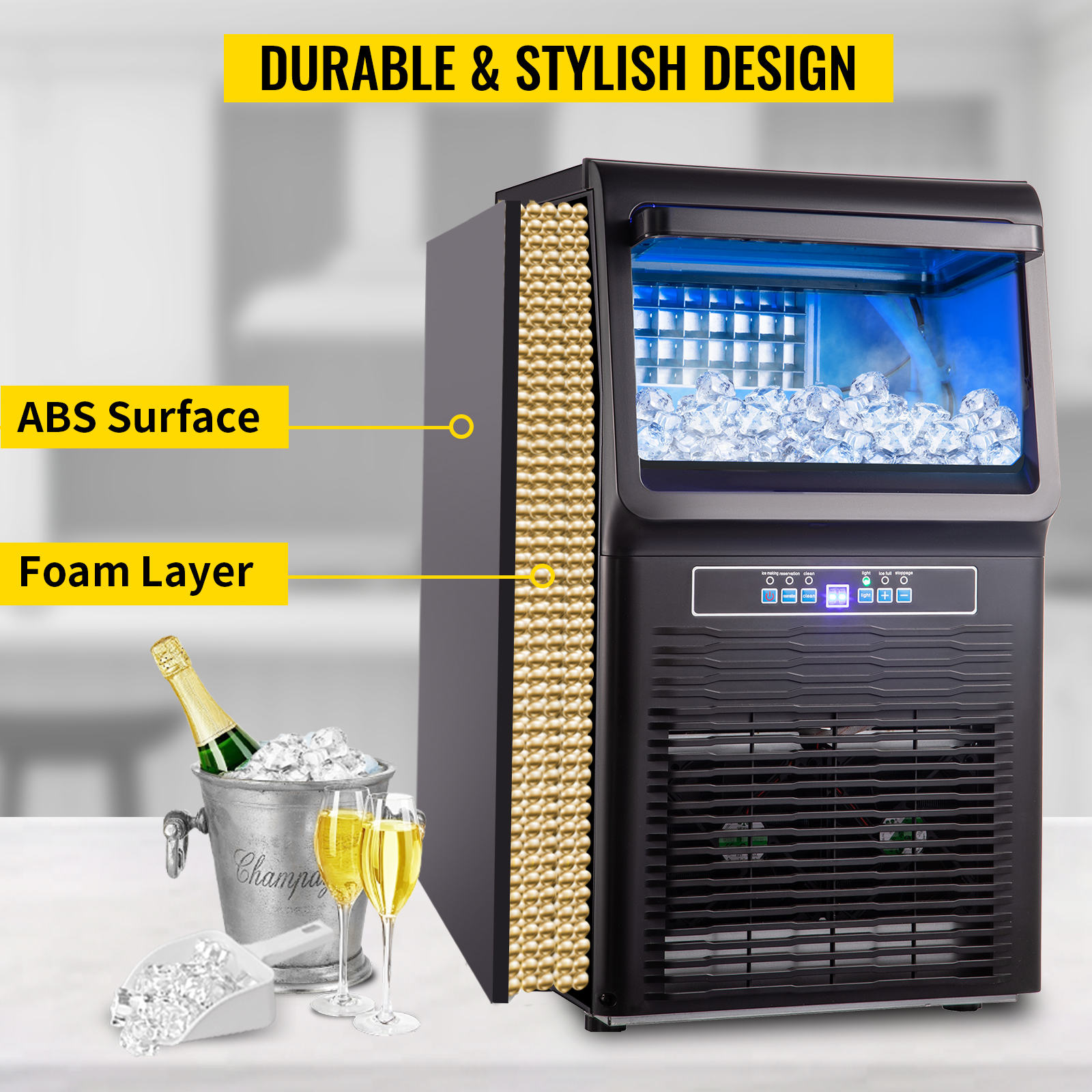 Stylish & Compact Design
The outer-casing adopts full heavy-duty ABS engineering plastic, featuring stylishness, durability, and easy cleaning. The thickened foam layer and the interior food-grade PP liner can effectively isolate the external heat and slow down the melting of the ice cubes.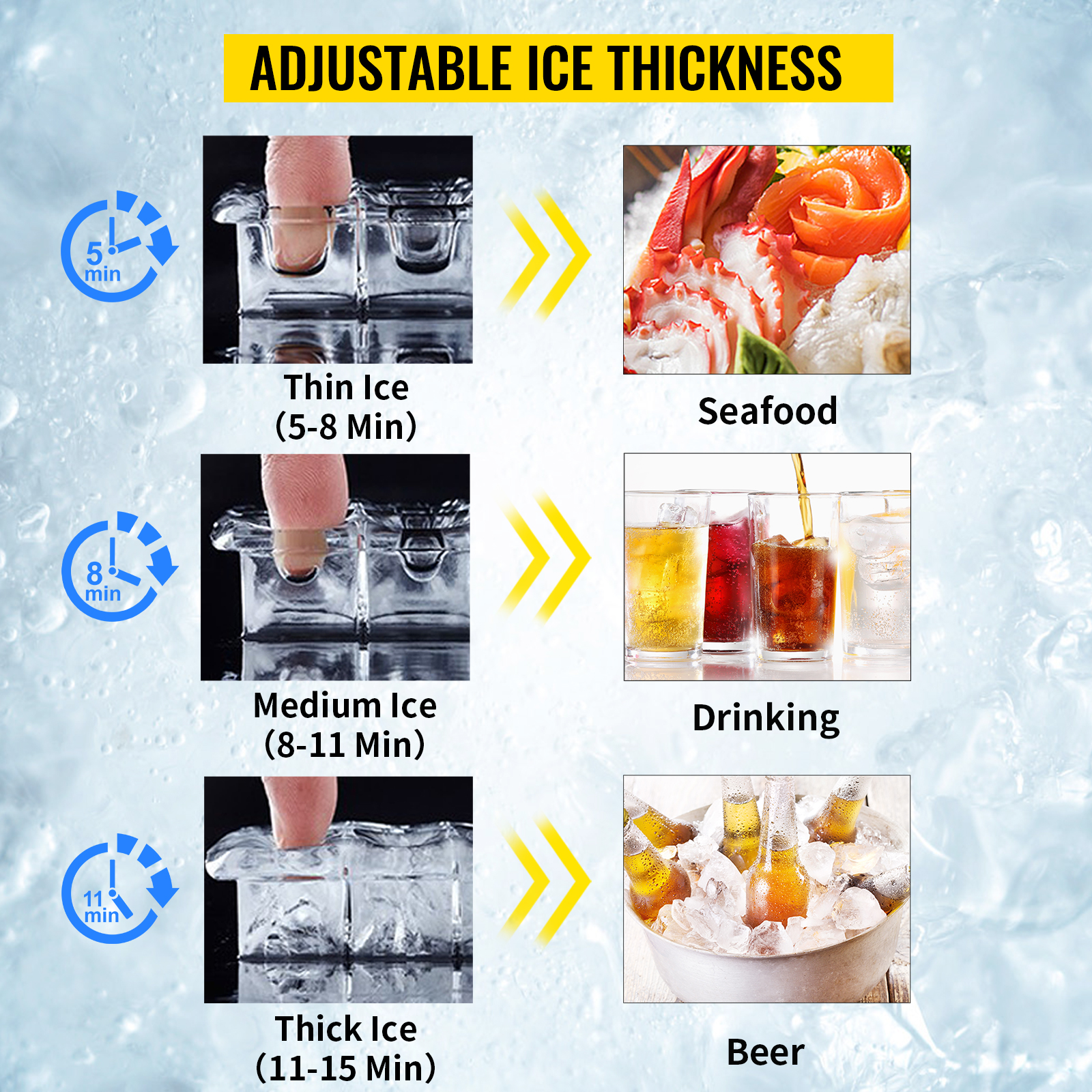 Adjustable Ice Thickness
This automatic ice maker can produce crystal ice cubes in dimensions of 0.9″x0.9″x0.9″ (22x22x22 mm). The thickness of the ice depends on different ice-making periods. Thin ice cubes (5-8 min) are suitable for decorating & freezing seafood, medium ones (8-11 min) for smoothies, and thick ones (11-15 min) for chilling the beers.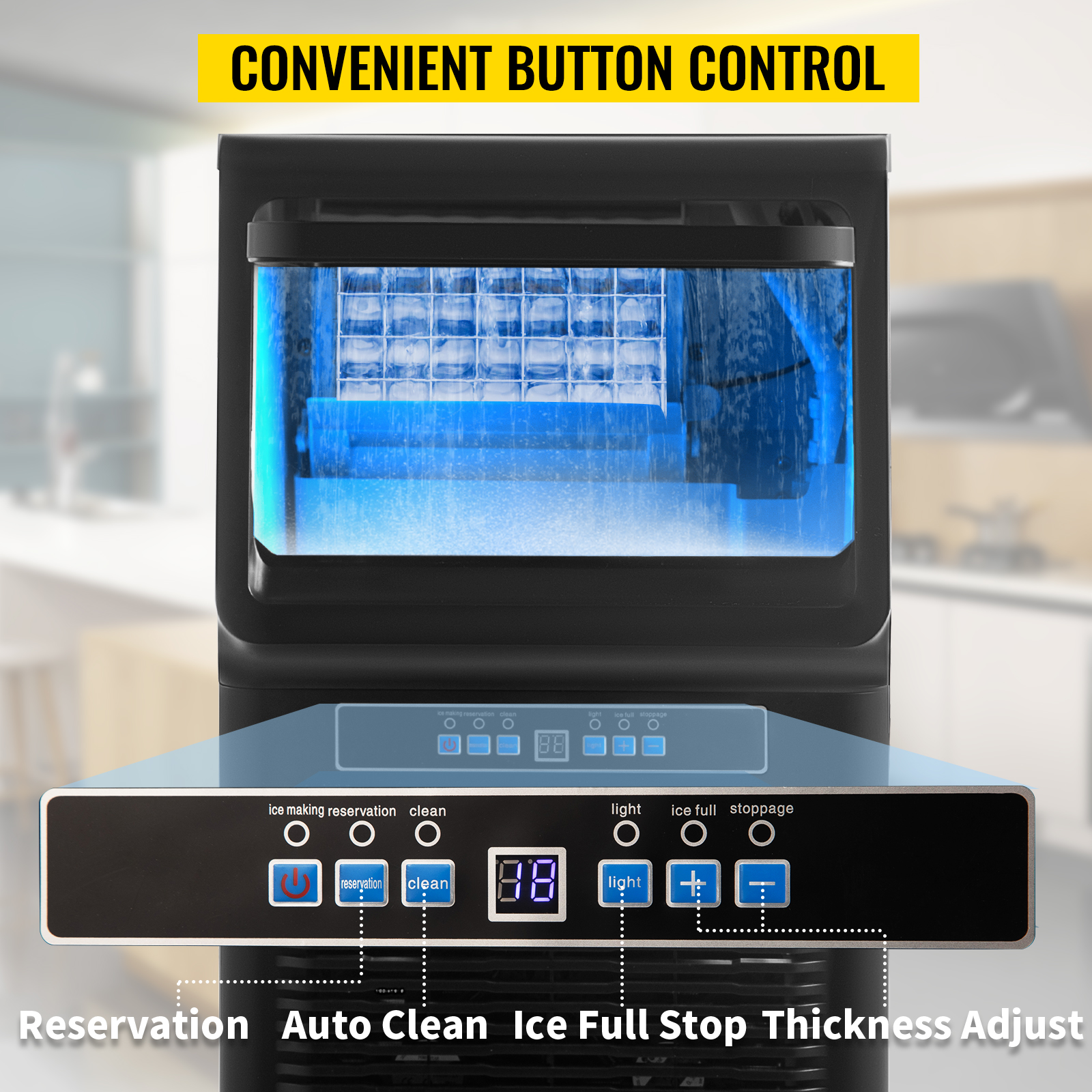 Convenient Button Control
The feature-rich control panel integrates various functions. You can make the ice cubes thicker or thinner and start one-click cleaning simply by pressing the time-setting buttons. Other indicators are also integrated on the panel, such as auto refrigeration, ice-making reservation, full ice stop, etc.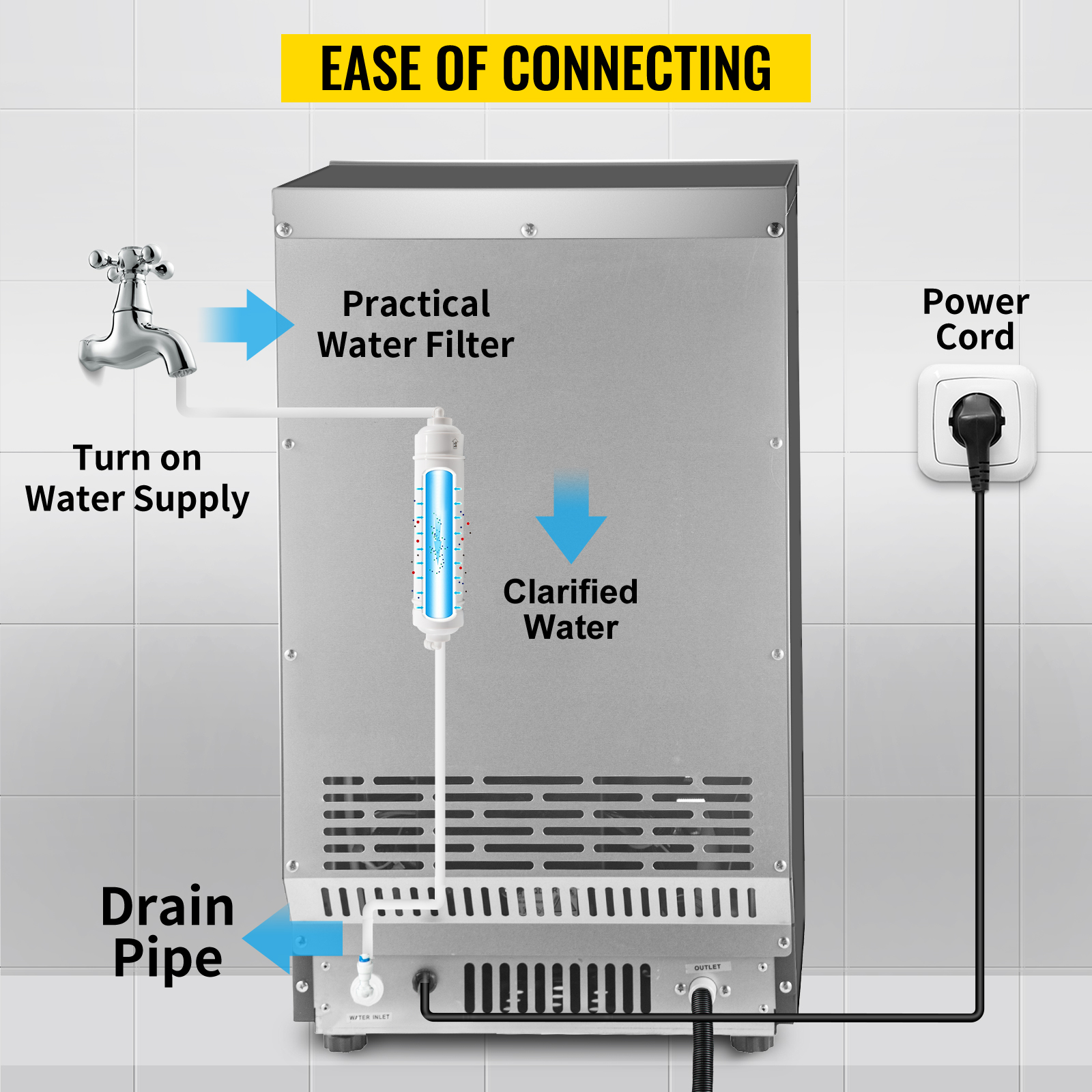 Ease of Connecting
With the water filter included in the package, our countertop ice-making machine can be directly connected to the faucet to convert tap water into drinkable pure water and produce clean, sanitary, and crystal clear ice cubes. The drainage pipe is also provided for discharging the melted ice.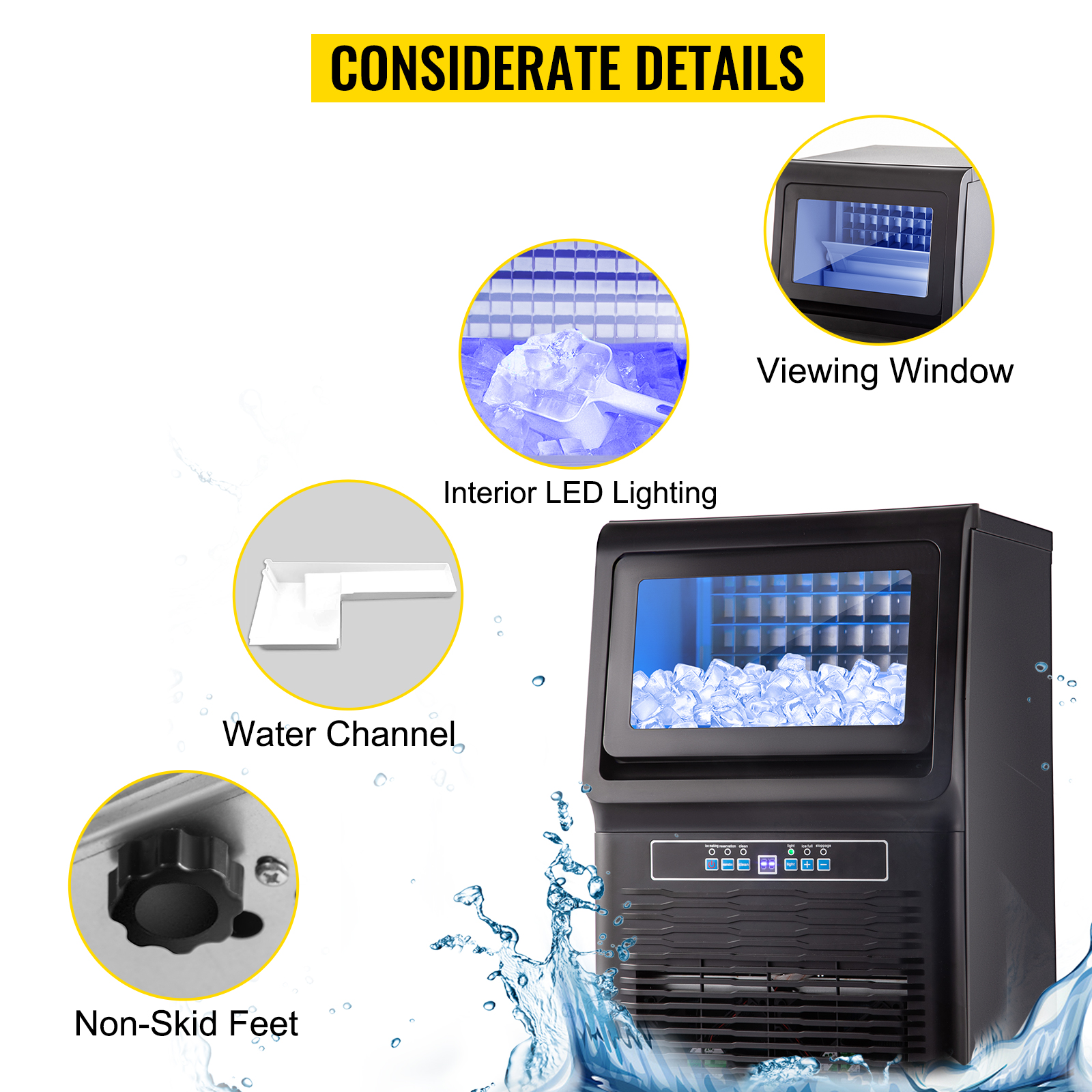 Considerate Details
The inclined cover with a viewing window and the interior LED lighting is convenient for observing the inside situation even in the dark. The water channel, easily detachable, is satisfactory for regular cleaning. Besides, four non-skid feet are also equipped for stabilizing this ice machine.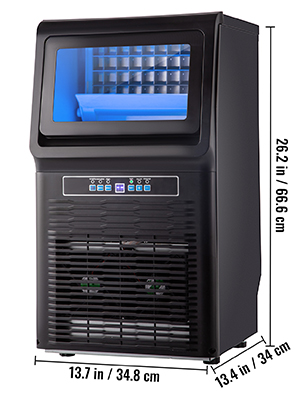 Specifications
Model: KJ-AT25F
Material: ABS
Colour: Black
Rated Power: 350W
24H Ice Yield: 70 lbs (31.75 kg)
Ice Storage Capacity: 11 lbs (5 kg)
Ice Cube Size: 0.9×0.9×0.9 in (22x22x22 mm)
Ice Tray Size: 36 PCs (4×9)
Refrigerant: R290
Cooling Type: Air Cooling
Product Dimensions: 13.7×13.4×26.2 in (348x340x666 mm)
Product Weight: 37 lbs (16.8 kg)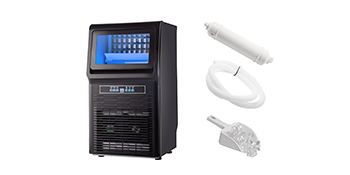 Package Content
1 x Countertop Ice Maker
1 x Water Filter
1 x Drain Pipe
1 x Ice Scoop
1 x User Manual
Features & Details
【EFFICIENT ICE MAKING】- Fueled by the 350W compressor, VEVOR's countertop ice maker features efficient ice making, producing about 70 lbs (31.75 kg) every 24 hours with its 36 PCs (4×9) built-in ice tray. Each ice-making cycle takes 8-15 minutes, determining whether the ice cubes are thicker or thinner. Different thicknesses serve different purposes. Besides, this compact ice machine can store about 11 lbs (5 kg) of ice cubes, suitable for homes, bars, grocery stores, etc.
【DURABLE MATERIAL】- Composed of ABS shell, thickened foaming layer, and food-grade PP liner, our automatic ice maker (measuring 13.7″x13.4″x26.2″ in dimensions) features an eye-pleasing stylish & compact appearance. From the comfort of the foam layer, the reliable heat insulation effect can be assured, preventing the ice cubes from melting quickly. The PC cover with viewing window facilitates easy fetching of ices and intuitive observation of the inside ice-making process.
【SMART PANEL CONTROL】- Our countertop ice machine is equipped with a practical operation panel, integrating multiple functions such as reservation for ice making, one-click auto cleaning, full ice stop, etc. And you can adjust the thickness of the ice cubes by increasing or decreasing ice-making time. You can apply the ice cubes in different thicknesses for various uses.
【EASY TO CONNECT & USE】- Our countertop ice cube maker comes with a water filter, easy to connect and reliable to filter. Aided by the junction device, which can turn the tap water into drinkable pure water, the ice machine would work properly in different places wherever the water supply and power cord are ready. Drainage pipe and ice scoop are also provided. The former can be connected to the outlet to discharge the remaining water, and the latter is convenient for ice fetching.
【WELL-DESIGNED DETAILS】- The cover with a viewing window allows you to observe the inside situation directly. And you can operate in the dark on the strength of the interior LED lighting. The water channel inside is easily detachable for regular cleaning. Four non-skid feet at the bottom can provide stable support for the device. The dense air vents for effective heat dissipation can prevent the ice machine from being damaged by high temperatures and prolong its service life.